Correct Pelvis Alignment and Get Rid of Unexpected Leakage Ruining your Life!


Train the lower region muscle to prevent involuntary urination by strengthening your bladder muscle.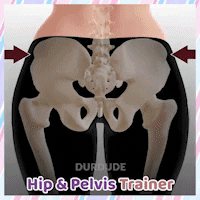 Keep tightening and realigning your pelvis correctly, your spine will benefit and your posture will be corrected.


FEATURES:
TIGHTENING PELVIS: Exercises with this training tool to tighten bones and firm your muscles. Achieves overall body alignment.
LEAKAGE CONTROL: Reduces urinary incontinence and controls overactive bladder.
STRENGTHENING: Supports bladder muscle strength to limit bathroom trips over the night.
STOP OCCASIONAL LEAK: Minimizes occasional leakage due to sneezing, coughing and laughing.
PAIN RELIEF & SHAPING: Relieves the pain from incorrect posture and shapes your ideal leg shape at the same time.

SPECIFICATIONS:
Durable Material: Finest Stainless Steel, Soft Foam
Colors: Pink / Grey / Blue / Purple
Package Includes: 1 x LeakageOff™ Hip & Pelvis Trainer