No more unsightly and painful corns and warts!
Advanced Corn & Wart Removal Gel remove years of corns, warts and calluses painlessly while facilitating the healing process and stopping regrowth.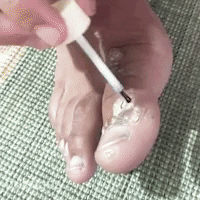 Formulated with fast acting herbal extracts and natural ingredients, it penetrates deeply into basal skin layers to uproot deep-set bacteria and remove extra keratin (producing rough, hard texture of a wart).


The anti-inflammatory treatment gel is completely painless to apply and easy to use.


FEATURES:

CORN & WART REMOVAL: Softens rough skin cells and eliminates embarrassing warts, corns and calluses.
ANTI-INFLAMMATORY: Kills a wart-causing virus (HPV) with its anti-inflammatory properties.
FAST ACTING: Penetrative treatment gel to achieve visible results within a few uses.
NATURAL INGREDIENTS: Contains Saffron, Impatiens, Sophora flavescens, Cnidium, Stemona and other herbal extracts.
SAFE TO USE: Non-toxic and free of harsh chemicals. Painless and safe to use.
DIRECTIONS:

Step 1: Soak your feet in warm water to soften your skin.
Step 2: Brush the herbal gel on affected area. Apply 2-3 times for best results.
SPECIFICATIONS:
Weight: 10ml/bottle
Ingredients: Saffron, Impatiens, Sophora flavescens, Cnidium, Stemona, Kochia scoparia, etc
PACKAGE INCLUDES:
1 x Corn Removal Extra Strengthen Gel